Sandrine PICAVET
trilingual Web Designer
French, English, Spanish
Further to a massive lay-off in Volvo group in November 2015, I have decided to devote myself to one of my passions: the digital world. After working successfully 20 years in international industrial groups in positions ranging from after-sales coordinator to marketing assistant I took on a webdesigner training. I successfully passed the exam in July 2016.
I now combine my foreign languages skills with my digital ones.
In addition I have been developing this web site: "sur la route des vacances" from the idea, the content to the communication material whenever I have time on my hands.
Education
Web Designer
Pro web 31 (Toulouse- France)
Level III diploma in France- July 16 (Level V in Europe)
Production of graphic design material for website or for print,
Production of websites,
Web marketing: SEO
Motion design
Licence L.E.A.: Degree in Foreign Languages Applied to Business and Sales (English and Spanish)
Dijon University (France)
Degree: june 96
My experience
Renault Trucks
St Priest
2003-2015
Trilingual coordinator- financial management, fault report, interaction between mechanics and customers, technical translations and interpreting, part ordering and delivering arrangement on break-down site for trucks.
Order support- truck production order scheduling in accordance with industrial constraints, rules keeper, training of partners of the Spanish, Dutch, and British market.
Supply manager- Placing orders for parts for prototype engines in accordance with engine constitutions, supplier follow-up, reporting.
Aventis Crop Science
Lyon 9
2000-2002
logistics assistant- Placing sample orders worldwide, delivery follow-up.
Vallourec Composants Automobiles
Boulogne-Billancourt
1998-1999
Trilingual marketing and sales assistant- Competition watch and investigating for new partners for joint-venture (joint-venture with japanese group F-Tech), travel arrangements for managers, mail processing.
News

Google Analytics training
by Google Analytics Academy,
I went through the whole training but unfortunatly Google did not issue certificate at this moment, I will just have to take it again when the opportunity comes up!
October 21th 2016

Self training on Sass
I need to learn the preprocessor, some practice withthis site.
December 2nd, 2016

Entrepreneur
Further to 20 years experience as an employee in industrial international groups and a business plan I register my own company.
November, 3rd 2016

Signed 2 big deals
It is going faster than expected, I signed 2 contrats that will keep me busy till March 17.
December 15th 2016

Google Digital Marketing certificate
I passed it on April 20th 2017- Never take anything for granted, this is my motto, always keep your skills up to date!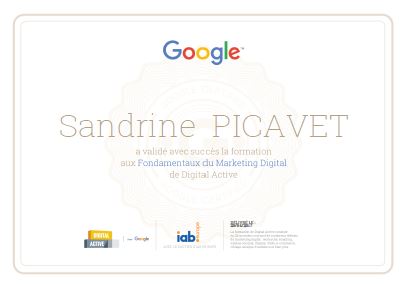 April 20th 2017